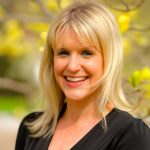 Kim Yawitz is a registered dietitian nutritionist in St. Louis, Missouri.
Since August 2017, she's been working with sports nutrition and weight management clients for a private practice.
Prior to joining a private practice, Kim worked as an inpatient clinical dietitian, developing nutrition care plans for patients with health concerns ranging from autoimmune disease to critical illness.
In addition to her work with clients, Kim is also a CrossFit Level 1 Trainer. She loves weightlifting and trail and obstacle course racing. When she's not writing or seeing clients, you might find her trying to keep up with her three young children.
Learn more about Kim:
Instagram: @kimyawitz_rdn
Website: kimyawitz.com
Articles by this author
The Mediterranean diet has long been touted as one of the best.
In fact, U.S. News and World Report named it the best diet overall compared to 41 different diets.
The Mediterranean diet was also named the best plant-based diet, best diet for healthy eating, best diet for diabetes, and easiest diet to follow.
Some studies even suggest it can help you live longer (1, 2).
But is this diet really the best diet for you?
Here, we take a closer look at the origins of the diet and the current scientific evidence to see if the Mediterranean diet is all it's cracked up to be.