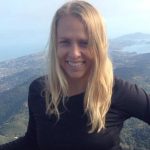 Stephanie is a certified nutrition consultant, writer and editor from the USA.
She graduated from the University of Iowa with degrees in journalism and psychology in 2003, and later studied holistic nutrition at Bauman College in Berkeley, California.
Since 2016, she's been working from her laptop, traveling around the world and writing about food, nutrition and wellness for Diet vs Disease and other health-centered websites and publications.
How does Stephanie make health a priority?
"Happiness and healthiness comes in the balance of simple pleasures. For me, that's a blend of extreme travel and lazy days, fresh greens and pure cacao, uphill hikes and bungee jumps, evocative melodies and provocative sounds, moving, dancing, reading, writing, and rare moments of silence."
Learn more about Steph:
Articles by this author
Glutamate is one of our most important neurotransmitters in the brain, and it's necessary for several vital bodily functions.
You've probably heard all the warnings about monosodium glutamate (MSG), but it's not quite the same thing as the glutamate that's naturally produced in our bodies.
That said, too much of it—via forms like MSG—may come with some unwanted side effects.
Here, we break down what glutamate is and why we need it, how it relates to MSG, and if you might be consuming too much of it.