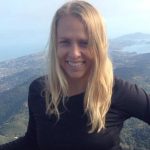 Stephanie is a certified nutrition consultant, writer and editor from the USA.
She graduated from the University of Iowa with degrees in journalism and psychology in 2003, and later studied holistic nutrition at Bauman College in Berkeley, California.
Since 2016, she's been working from her laptop, traveling around the world and writing about food, nutrition and wellness for Diet vs Disease and other health-centered websites and publications.
How does Stephanie make health a priority?
"Happiness and healthiness comes in the balance of simple pleasures. For me, that's a blend of extreme travel and lazy days, fresh greens and pure cacao, uphill hikes and bungee jumps, evocative melodies and provocative sounds, moving, dancing, reading, writing, and rare moments of silence."
Learn more about Steph:
Articles by this author
Aloe vera has long been a go-to topical remedy for skin wounds and sunburns, but it could have potential to provide benefits by soothing the body from the inside as well.
This succulent plant contains dense leaves filled with a nutrient-dense gel that can be beneficial for the hair, skin, teeth, and even digestive system.
Here, we'll discuss the nutritional benefits of aloe vera and how it could be a cheap and easy option for relieving inflammatory bowel disease (IBD) symptoms and heartburn, among various other discomforts throughout the body.