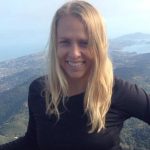 Stephanie is a certified nutrition consultant, writer and editor from the USA.
She graduated from the University of Iowa with degrees in journalism and psychology in 2003, and later studied holistic nutrition at Bauman College in Berkeley, California.
Since 2016, she's been working from her laptop, traveling around the world and writing about food, nutrition and wellness for Diet vs Disease and other health-centered websites and publications.
How does Stephanie make health a priority?
"Happiness and healthiness comes in the balance of simple pleasures. For me, that's a blend of extreme travel and lazy days, fresh greens and pure cacao, uphill hikes and bungee jumps, evocative melodies and provocative sounds, moving, dancing, reading, writing, and rare moments of silence."
Learn more about Steph:
Articles by this author
Gundry PrebioThrive is a popular all-natural supplement that contains a combination of prebiotics.
Prebiotics are precursors to probiotics. They help feed and grow healthy gut bacteria, which have been linked to several health benefits including a strong gut, heart and immune system.
Producers of the supplement claim it can help improve digestion and aid in overall health and vitality—but it's certainly not cheap.
This article explores what PrebioThrive is, the research behind it, what it claims to do and if it's worth the steep price tag.