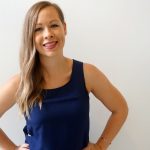 Eleise is a university qualified Nutritionist from Melbourne, Australia.
After studying a Bachelor of Health Science (Paramedics), she later went on to follow her passion for nutrition science and completed a Master of Human Nutrition at Deakin University. While living abroad in Vietnam she completed an internship at the Ho Chi Minh Nutrition Centre.
Since 2015 she has been working as a health and nutrition writer, copy and content creator and consultant to corporate businesses and food industry organisations. Aspiring scientist also a recent addition to this list.
Since relocating back to Melbourne she has decide to take her love for science communication to the next level and is currently completing a Bachelor of Science majoring in Genomics and Cell Biology.
How does Eleise make health a priority?
"I'm happiest when I'm traveling to new places, exploring foreign supermarkets and eating exciting food. Yoga, running and snow skiing are my top picks for staying active."
Learn more about Eleise:
Articles by this author
[Last updated 7th March, 2023]
Armour Thyroid and Synthroid are medications used to treat hypothyroidism (an underactive thyroid).
Synthroid is the most commonly prescribed, however some claim Armour Thyroid produces better results.
So, which is the best treatment for you?
This article looks at the evidence for both to help you decide.[Discover More…]