[Job closes 10th July, 2022]
We're looking for a FULL-time Dietitian to join our Diet vs Disease team working primarily in Australian or Pacific/Mountain US timezones. (Sorry but not EU or Asia or US Eastern/Central).
We're an online gut health Dietitian service and have now helped over 2500 clients 1-on-1 through our system. If you want a rewarding work-from-home role, and want to fast-track your experience with an exciting team, and impact 1000's of clients, I invite you to apply!
This is a remote position, meaning you work from home and largely autonomously, but you will have 12 consultant colleagues you speak with regularly (shown on the map below).
If you know someone who'd be great for this please recommend them and if we hire them we'll gift you $1000 USD as a thankyou!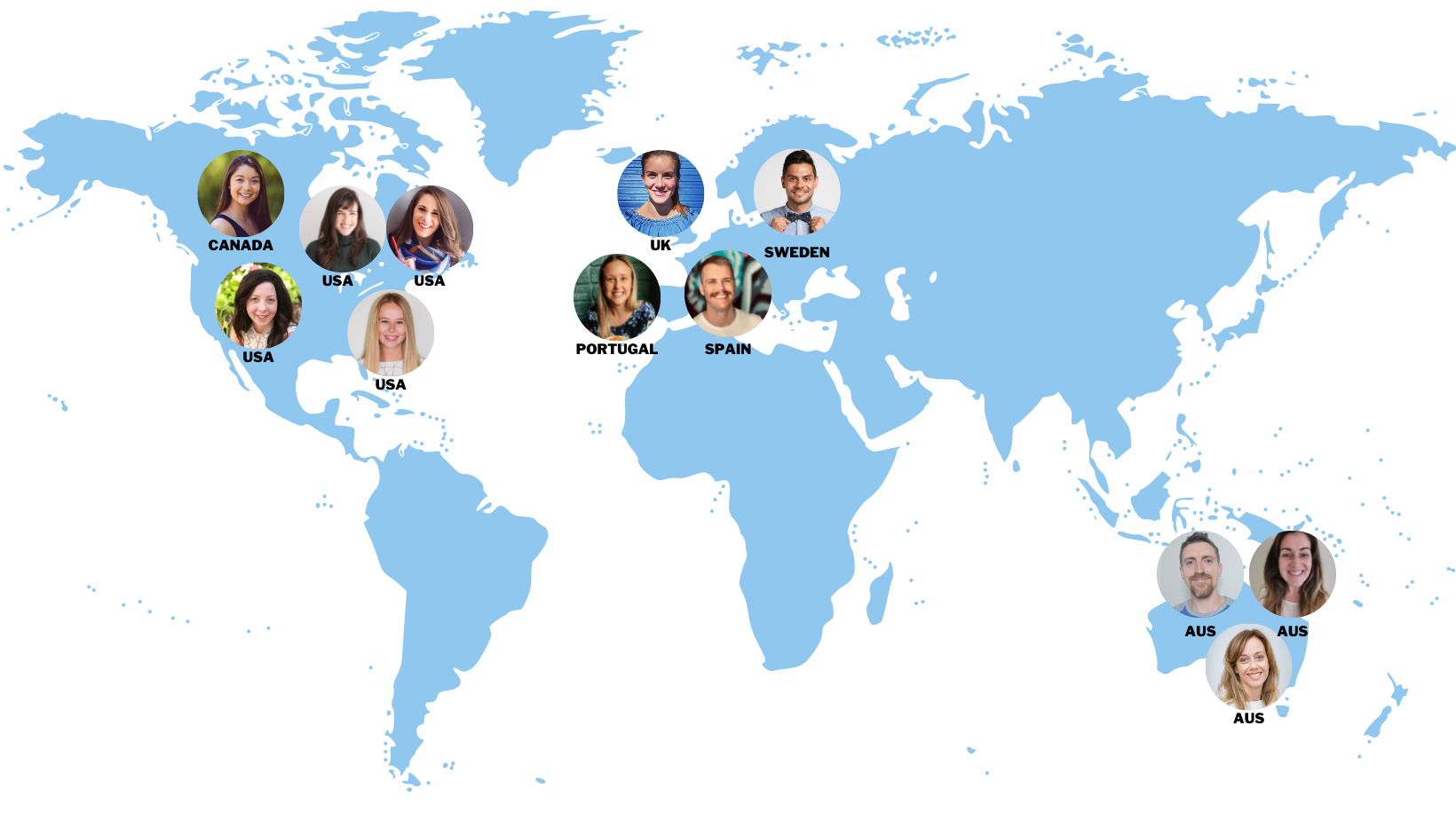 This is for you if:
You are a university-qualified Dietitian that identifies as evidence-based
You have a strong interest and experience in gut health and digestive disorders
You are comfortable and experienced with at least one of these areas: IBD, SIBO, or food chemical intolerance

You enjoy working with clients 1-on-1 to achieve their health goals and you get energy from helping your clients

You can work primarily in Australian or Pacific/Mountain US timezones. This is important, you need to be living in one of these timezones ideally.
You are thrilled by the idea of working remotely and appreciate just how much time you will save each day and how much freedom it provides.
You are ready to reignite your dietetics career with an exciting opportunity that will fast-track your growth both on a personal and career level!
More Important Details, See If This Resonates With You:
The service we provide is primarily a digestive health program, but we also included psychology/mindset consultations (we have specialist consultants for this already) as well as gut-directed therapy where appropriate.

Think about how many times you've spoken with a patient/client and thought that where they really need help is with behavior change, or emotional eating, or managing their anxiety and relationship with food…
We do exactly that, all under one "roof"! No referral lists and waitlists for the patient. It's diet and psychology help in one place, which is why we can get such amazing outcomes.
We have a set method we use but you have loads of flexibility in how you practice. For example if you feel the client needs a SIBO test then we can make that happen.
You can learn more about how it works here (this is the page we use to encourage referrals from doctors and gastroenterologists, whom trust us all around the world), and see over 50 of our client video testimonials here.
We're also on TrustPilot so you can see independent reviews from our clients. Notice how the feedback differs from what you may be used to hearing in the more conventional dietitian consultation model.
We are a team of 22 people, including 9 Dietitians, 1 Nutritionist, 1 gut-directed therapist and 1 mindset coach.

In this role you will take on new clients and provide the individual support and accountability necessary to help them reach their goals. You will have individual 1-to-1 clients and group clients.

You will be coaching clients 100% virtually through a food and symptom tracking app, Zoom video calls, FB messenger, and an FB group. So half of the day you can be in your pajamas if that's your style. It doesn't matter as long as you are on time, reliable, and professional. 
Here is the BEST part…
Clients come to us in the mindset for change.
That means no more giving advice to people who are just there because their doctor made them see you or because they're stuck in a hospital bed with no way to escape you.
Our clients are READY for change and want to learn from you. They are there because they want to be, not because they have to be. They value your expertise and will get results, and it makes it super rewarding.
What's more, you'll have access to all the resources necessary to provide an A+ service to your clients… No restrictions or boundaries that you've likely experienced working in traditional systems.
Important Considerations Before Applying:
Do you have a desire to work remotely? Working outside of a physical team environment is not for everyone, you have to be extremely disciplined and not mind working alone! You will speak with the team everyday online so there is loads of support.

Understand that the trade-off for a location independent/ work from home position, with flexible hours, is occasionally working outside of regular 9-5 hours to respond to clients and do some check-in calls in the evenings. Clients are in different time zones around the world, we will try to match you with people in your timezone, but essentially the 9-5 schedule goes out the window. 

You need to be h

appy to work some weekends too where it's needed if a client contacts you. We do whatever it takes to make the client successful, and it starts with support.

You need to be very comfortable on video, or be willing to get LOTS of practice with us (let's face it, everyone needs to get comfortable with video now if you want to impact people's lives and stay relevant in the industry). You will be on video with our team and our clients all the time.

Your attention to detail should be one of your strongest traits. 

You should work well in a fast-paced environment and great at keeping to a bookings schedule.

People person, obviously you have to enjoy interacting with people and get energy from speaking with and helping clients

Are you tech savvy? You need to learn several online systems and softwares
We use a food tracking tool with our gut health clients, so if you are strongly against tracking food intake then this role is not for you.
Huge bonus points if:
Experience and strong confidence in more complex digestive disorders like SIBO or food chemical intolerance. 

You really enjoy using social media like Instagram, Tik Tok, Youtube or Facebook. Like you are the kind of person who makes stories every day and just loves sharing content. We are very interested in this if this is you so make sure to let us know.

You already have an online presence like a website or instagram or Youtube that shows your enthusiasm for coaching or nutrition or being on video, etc. Something that shows where you stand and what you are passionate about!

If you have skills or a very strong interest in psychology/behaviour change/motivational interviewing/therapy/counselling then that is a big bonus. A lot of people know what to do, they need the mindset coaching to execute on it.
You can do full time hours straight away. Will also consider if you just need to give notice to your current job for example.
Other Things To Know:
You'll be provided with extensive training, both formal training where you can get professional development point, and informal training from our team.

You should be a type-A personality that likes to learn on the job as we will be getting you involved with clients from the start. 

Best of all we are taking care of all the frustrating stuff… the marketing and sales to find the new clients! All you have to do is the stuff you enjoy most- consulting, interacting and helping people improve their health and happiness.

There is the opportunity to be involved in many other aspects of a virtual consulting business, such as marketing or sales or resource development. I can see this role growing and developing over time to be a hybrid of different skills and aspects so it remains exciting and challenging and fulfilling.
That said, if you want to do your own business on the side this role is not for you. We're looking for team members who are focused on this role only.
You can see the current consulting team near the top of this post.
We've sorted HIPPA compliance etc
Note that this is a contract position, which means you are effectively self-employed and not a direct employee (this is to do with US rules around a non-US owned LLC not being allowed to have US employees).
Live Meetups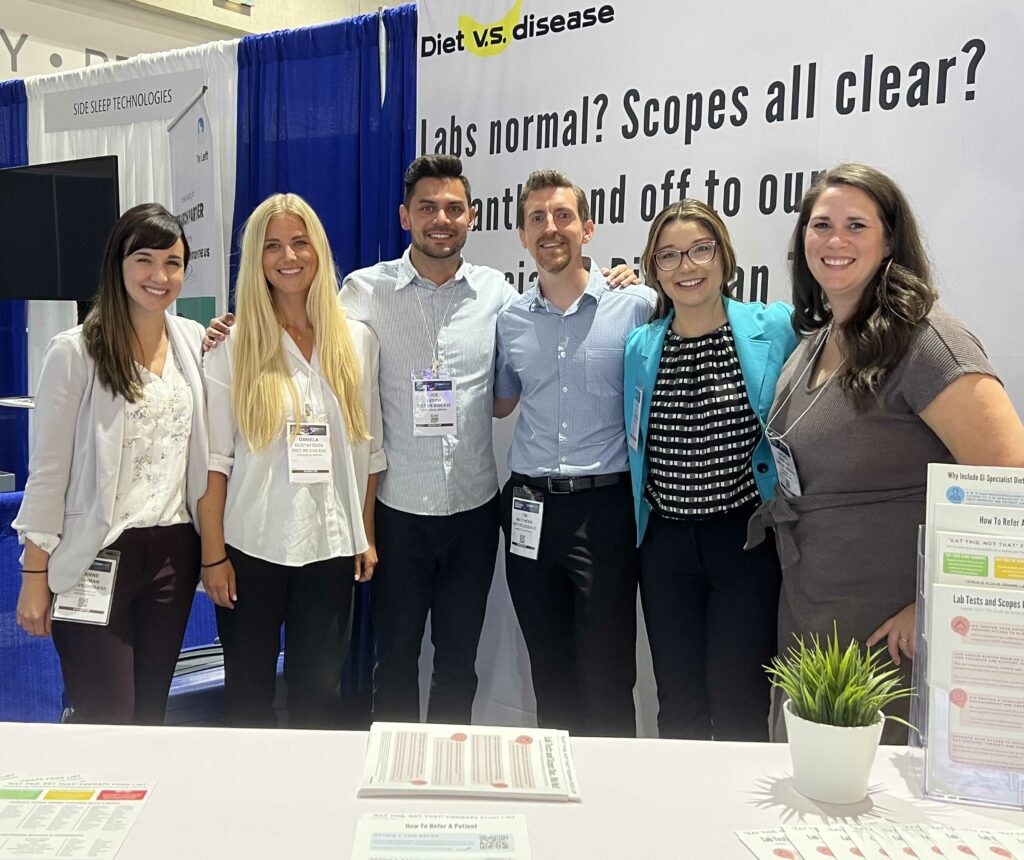 Now that the pandemic is behind us (hopefully), we've been doing team meet ups around the world.
So if you apply to work with us, hopefully you enjoy travel!
For example we did an Aussie meetup in Brisbane in January, north America meet up in Dallas in February, and a small team in San Diego in May for the Digestive Disease Week conference.
Location & Hours
Full-time contract is 35-40 hours per week.
Work from anywhere you have reliable internet.
Compensation
Competitive wage to be negotiated based on your experience, minimum of $29 USD per hour and much more if you have relevant experience as a Dietitian and/or with digestive disorders. We provide commission bonuses too based on clients who re-sign with you, so if you are a great Dietitian then it won't go unnoticed and you will be financially rewarded.
There are many opportunities to learn marketing or sales related roles that are commission based, which pay extremely well.
Professional development included and encouraged (for full-time)
We go to international conferences now
We pay for your insurance (for full-time)
We pay for your dietitian members fee (for full-time)
Any equipment you need to work at home efficiently
And remember if you refer someone to this job and we end up hiring them, we'll gift you $1000 USD as a thank you!
I asked some of the team: "How is your day to day different now working for us vs your previous job?"
Working with clients that I want to work with, where I want to work and when I want to work. Ultimately, flexibility and a supportive team. – Taylor
I have no commute, more time with my family, I'm more available to my school aged kids and have way better work/life balance. I'm not chasing clients, not doing unpaid admin and have an amazing team around me. – Tim
Working from home doesn't just mean working from home. I've travelled to and worked in over 15 different cities in the last two years and still have been able to deliver the same service to all my clients. – Nick
Work from home can mean planning work around your life, rather than the other way around.  I don't miss the moments with my kiddo that count. I'm better paid and acknowledged for my efforts compared to the salary model.  Fantastic team who share the same eagerness to learn and to solve the problems of our clients. – Ryanne
I'm not wasting 7.5 hours each week driving to and from work. I can work around school hours in the comfort of my own home. – Jay
Can I just say same to all of the above? Lol.

– Rachel
How To Apply: Great if you read this far then you should apply! Use the link below.
This is what you have to do.
Record a Loom video on your laptop or phone and send us a brief video cover letter instead of in writing. You need to get comfortable on camera and it is so much faster for everyone.
Just talk as though we were talking in person and respond to each of these points one by one (have the list next to you if you need):
Where you are from and what you do right now

Why you believe you'd be best for this role (eg. what do you bring to the team, how would your colleagues or friends describe you, etc) 

Any skills or training or experience you've had that would be an advantage in this kind of role

What are your main priorities/ambitions for the next 3 years with your career?

When could you start if you were successful with this application and how many hours per week are you looking for?
If you record using Loom (it's a free software) then it will just give you a link to send us, it's very straight forward.
You can also include your CV and you can write any additional details you feel is relevant too.
We will start reviewing apps right away so the sooner you can apply the better.
[Job closes 10th July 2022]
Thanks and look forward to hearing from you!
Joe Leech
Dietitian