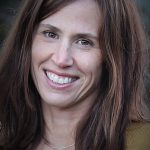 Christine is a Registered Dietitian who writes evidence-based articles about nutrition and health.
She earned a Master of Public Health degree in Nutrition, summa cum laude, from the University of Minnesota, and attended culinary school in Chicago.
Christine passionately promotes healthy active lifestyles for disease prevention, with a focus on plant-based eating.
How does Christine make health a priority?
She stays healthy and happy by trail-running, practicing yoga, and growing nutritious food for her family.
Articles by this author
[Last updated 14th August, 2018]
Pseudomembranous colitis refers to inflammation in the gut that is associated with an overgrowth of C. diff bacteria.
This condition can cause very uncomfortable gastrointestinal symptoms that are very serious if not managed properly.
Unfortunately, pseudomembranous colitis is becoming more common with people often experiencing it more than once.
This article explores what to eat and drink during a C. diff infection, and what diet can help prevent pseudomembranous colitis from recurring.[Discover More…]