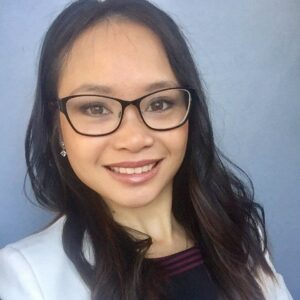 Geraldine Van Oord is an Accredited Practising Dietitian and Accredited Nutritionist from Australia. She graduated from the University of Wollongong, Australia in 2010 with a Bachelor of Nutrition and Dietetics and first class Honours.
She has since focused on developing an expertise in the area of food intolerance. In 2017, she was the very first Dietitian worldwide to complete Monash University's new IBS and FODMAP training for Health Professionals and went on to become the first Monash University Trained IBS and FODMAP Dietitian.
Geraldine is the co-creator of the online low FODMAP programs available at Diet vs Disease called 'Trust Your Gut' and author of many FODMAP-related articles available on Diet vs Disease and other health and nutrition websites.
She is also the featured Dietitian and FODMAP information reviewer in the book, 'A Busy Mum's Guide to Healthy Eating' by Debbie Bruce, a public speaker on food intolerance, and is the primary shopper and cook for her household who follow a modified FODMAP diet due to food intolerance.
Her mission is to provide nutrition advice and support to families with food intolerance to help them thrive and be healthy on any restricted diet that's medically required.
How does Geraldine make health a priority?
"Planning ahead! I cannot get by in this crazy world without being a little bit organised. That means meal planning, scheduling exercise and sticking to a routine. It doesn't always work but I try my best :)"
Learn more about Geraldine:
Articles by this author
One of the most cutting-edge areas of research involves the 'gut-brain axis' – the connection between the brain, gut, and microbiome and its potentially huge influence over our health.
Only recently have scientists started to better understand the gut-brain-microbiome axis and how it can impact not only physical and digestive issues, such as irritable bowel syndrome (IBS), but also mental health conditions like depression and anxiety.
This article investigates our current understanding of what the gut-brain axis is, the role of the gut microbiome, and how our physical and mental health can be compromised when communication between one or more parts along this axis becomes faulty.