[Last updated 29th October, 2021]
Have you been searching for a list of safe vegetables you can have on the low FODMAP diet?
Here's a list of low FODMAP vegetables to eat and high FODMAP vegetables to avoid.
Important
Aim to eat moderate serving sizes, even if it's low FODMAP. Large portions or multiple servings of a low FODMAP food can still equal a high FODMAP load.
Below you have the option to download a complete PDF list for saving to your device or printing.
Low FODMAP Vegetables
Alfalfa
Arugula/Rocket
Asian & Collard greens
Aubergine/Eggplant
Beans, green
Beansprouts
Beetroot (1/2 cup)
Bell peppers/Capsicum
Broccoli
Brussels sprouts (2-4 sprouts)
Cabbage
Carrots
Celery and celeriac
Chard/Silverbeet
Chilli, red or green
Corn (1/2 cob max)
Courgette/Zucchini
Cucumber
Edamame beans
Fennel bulb or leaves
Ginger and Galangal
Kale
Lettuce and Endive- all types
Mushrooms- tinned, shimeji, oyster
Okra
Olives, green or black (15 small))
Potato- regular
Potato- sweet potato (1/2 potato)
Pumpkin/Squash- kent/Japanese
Pumpkin/Squash- butternut (1/2 cup)
Radish
Rhubarb
Scallion/Spring onion (green tops)
Seaweed/nori
Snow peas/Mangetout (5 pods)
Spaghetti squash (1 cup)
Spinach, baby and English
Tomatoes
Turnip, Swede, Rutabagas
Water chestnuts
Yam
High FODMAP Vegetables
Asparagus
Artichokes
Cauliflower
Garlic
Leek (white bit)
Onions
Mushrooms- all other types
Peas
Scallions / spring onions (white bit)
Want to download or print the full low FODMAP vegetable list?
This is a giant list of what foods to eat, and what foods to avoid when following a low FODMAP diet.
It's based on the latest published FODMAPs data (7, 8, 9, 10, 11).
The first page looks like this (small version).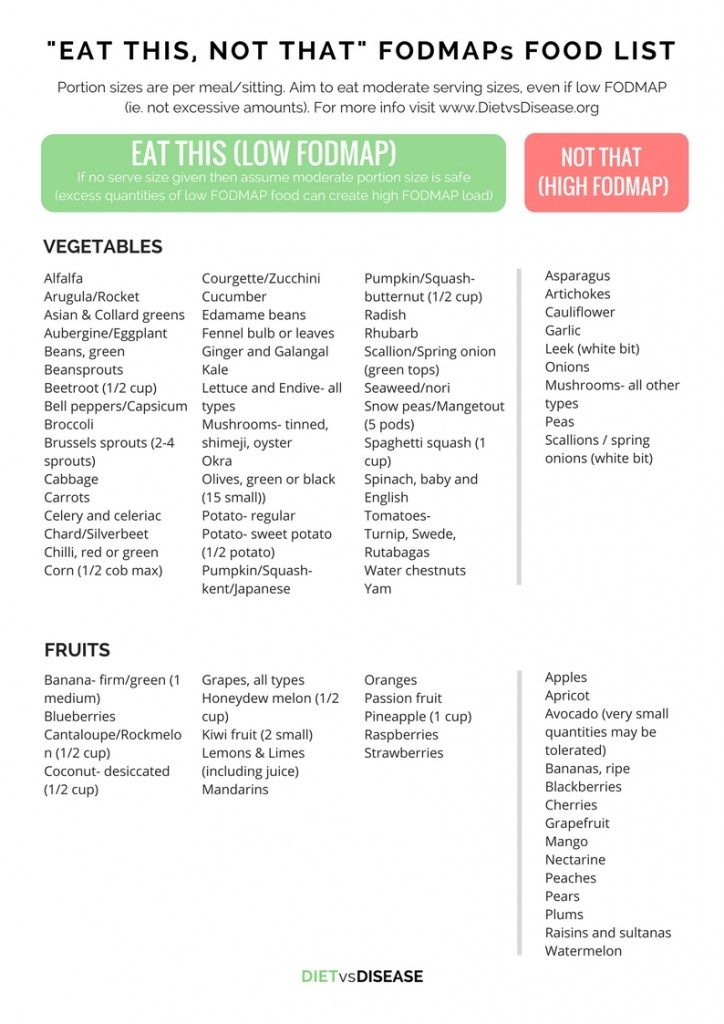 Alternatively, you can download a large and printable 4-page PDF version right now here: