Have you been diagnosed with high blood pressure (hypertension)?
Looking for a sample meal plan to follow… one that you can follow right now?
The 7-Day Diet Plan For High Blood Pressure is a Dietitian-made plan to help make life easier (and more delicious) when learning what you should and should not eat with hypertension.
It's designed to be:
Simple to follow for busy people with many mouths to feed, as long as you prepare in advance
Realistic, with recipes that are not too complex
Low in salt (no bread, minimal use of sauces and condiments). Salt restrictions seem unnecessary for healthy individuals, but is hugely beneficial for those with existing high blood pressure (1).
Rich in nutrients that may influence blood pressure, including potassium and magnesium.
Budget-friendly (except for one salmon dish, and two with quinoa).
Favourable for those who love peanut butter and sweet potatoes. I have a huge bias towards those foods because they are delightful (not together though!).
You can follow the entire plan, but perhaps it's better to choose your favourite recipes and include them one at a time. Almost all recipes are from qualified Dietitians that I encourage you to follow.
The 7-Day Diet Plan For High Blood Pressure
Must-Read Starting Notes:
Consult with your personal doctor or Dietitian first: While I am a qualified Dietitian, I'm not familiar with your personal medical history, your current medications or additional factors that need to be considered when altering your diet.
Choose water as your drink: The meal plan does not include drinks, but keep a bottle of water with you at all times and drink up. Herbal tea (especially Hibiscus), regular tea and coffee should be fine, except for those who are sensitive to caffeine.
Flexibility is key: Of course this plan cannot meet all your individual needs, so if there is an ingredient you don't eat then replace it or leave it out. If you don't normally eat breakfast, then leave it out. If you eat between meals, then have more than one snack. Also it pays off to batch prepare several meals ahead of time so you can simply reheat and go. This can be done for breakfasts, lunches and dinners.
Limit or cut out junk foods and highly processed products: This diet plan focuses on whole, unrefined foods as they are fundamental to eating healthy. Realistically it's very difficult to eliminate all highly processed/packaged foods (which contain the majority of salt in our diet), but just be mindful of cutting down. Likewise, snacks are optional depending on your normal eating habits, and there are bonus snack recipe ideas if you scroll to the bottom.
The recipes sourced often make 2-4 servings: Consider this when writing your shopping list. You will have leftovers. Feed the family or save the leftovers to have in place of a meal on another day. I've compiled some shopping lists to make this process easier, which you can access at the bottom.
Please email me if you have any other questions – hello AT dietvsdisease.org (replace AT with @)
Day #1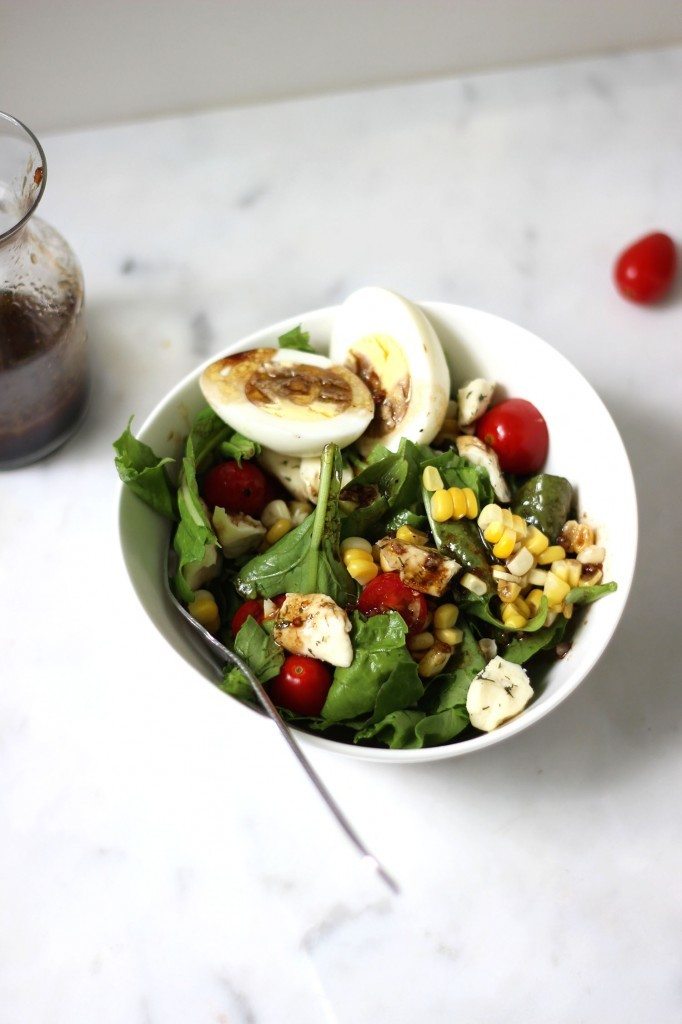 Breakfast: A bowl of oats with milk + 1 banana.
Lunch: Simple Summer Salad with Balsamic Vinaigrette
Dinner: Apple Pecan Chicken. Less the bacon.
Snacks (can have more than once): A handful of plain cashews or roasted almonds. High in protein, fiber and magnesium, studies show the addition of nuts to the diet does not cause weight gain (2).
Day #2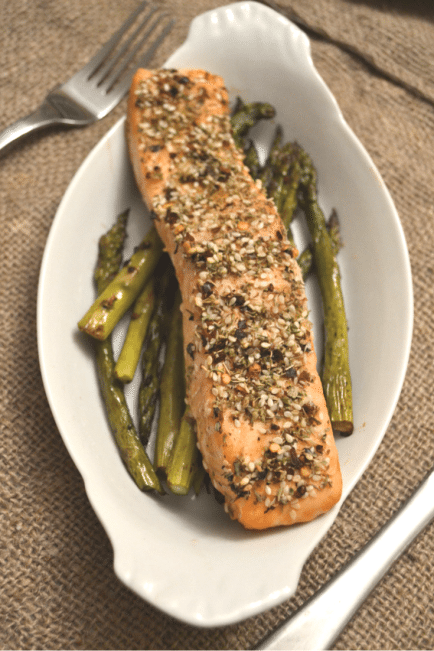 Breakfast: Healthy Chocolate Peanut Butter and Banana Smoothie Bowl
Lunch: Canned tuna (in oil or water) + salad
Dinner: Roasted Salmon and Asparagus
Snacks: 1 cup of carrot and cucumber sticks + ricotta cheese (not cottage cheese) or hummus. Try this Homemade Hummus.
Day #3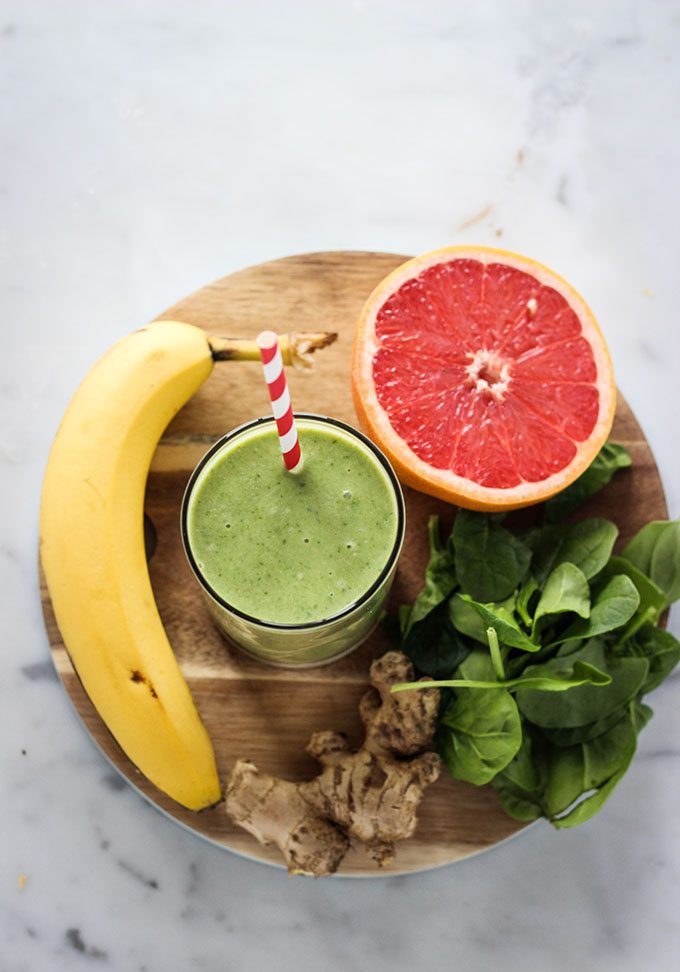 Breakfast: Grapefruit Green Smoothie. If you have a blender then smoothies are a quick and delicious breakfast.
Lunch: Quinoa Salad with Nuts. Quinoa is a versatile grain that is naturally gluten-free and high protein. This recipe has many tasty alternatives depending on what vegetables and nuts you have leftover.
Dinner: Healthy Chipotle Chicken Sweet Potato Skins. Sweet potato is just one of my all time favourite foods. Recommend using Swiss or mozzarella cheese, or a low-sodium cheddar.
Snacks: 5-7 oz (150-200 grams) plain Greek yoghurt + 1 small banana
Day #4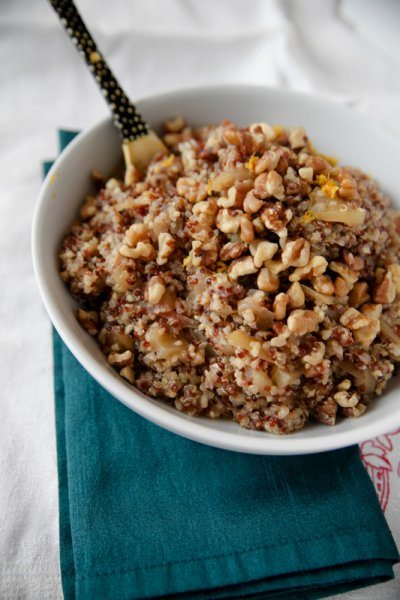 Breakfast: Apple Walnut Quinoa
Lunch: Pumpkin Soup Like You've Never Tasted Before. I'm a big fan of soups, especially in colder months. They tend to be lower-calorie than regular meals, rich in vegetables, and can keep you full for longer.
Dinner: Green Lentil and Walnut Bolognese served with pasta.
Snacks: A handful of plain cashews or roasted almonds.
Day #5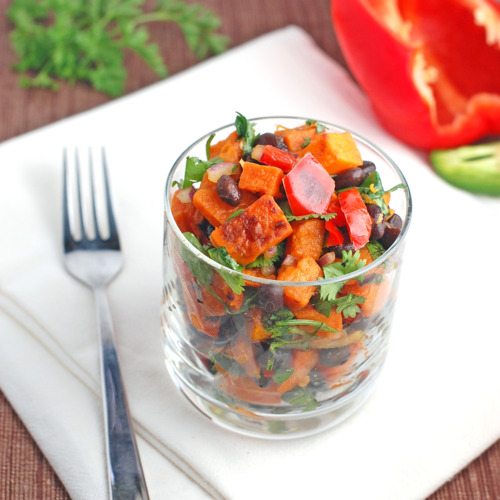 Breakfast: Chocolate Peanut Butter Smoothie. All-natural peanut butter (usually at least 95% peanuts) is the healthiest choice, but it's thick!
Lunch: Roasted Sweet Potato Salad
Dinner: Choose your favourite / leftovers / eating out
Snacks: 1 banana.
Day #6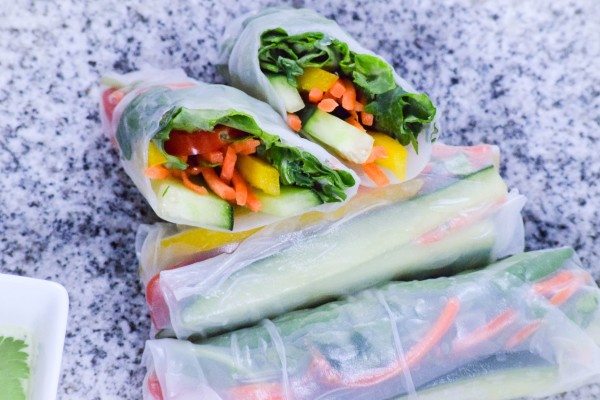 Breakfast: Choose your favourite
Lunch: Fresh Spring (Rice-Paper) Rolls. Perfect for using leftover veggies. Select a maximum of 3 veggies, and add a protein food if you like.
Dinner: Grilled Spicy Honey Lime Chicken Kebabs
Snacks: Pan-fried Za'atar Popcorn or Healthy Microwave Popcorn
Day #7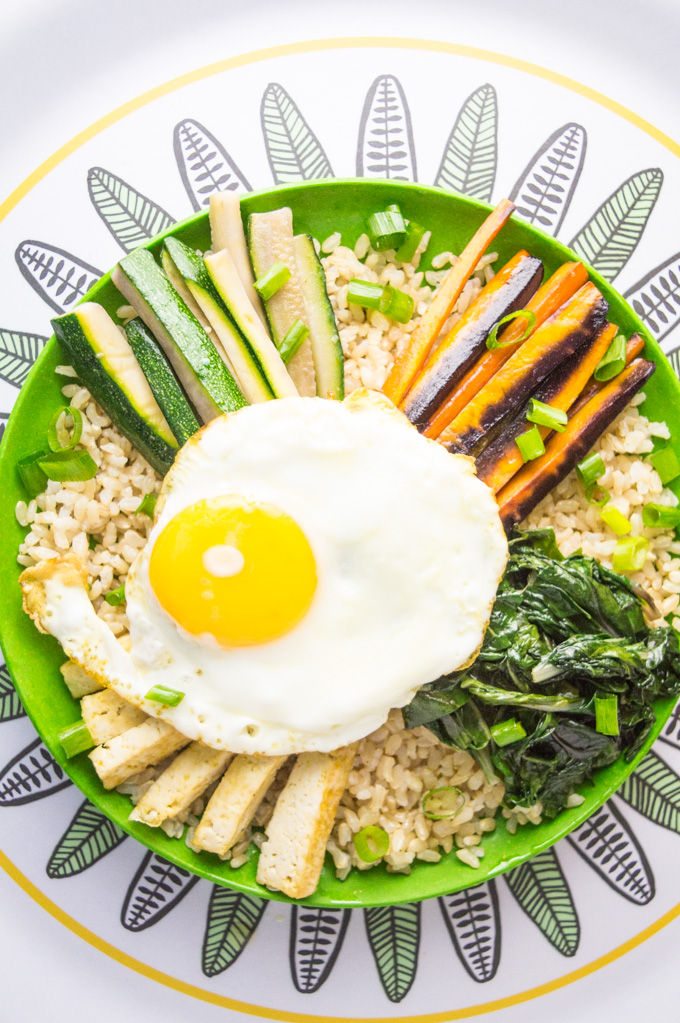 Breakfast: Creamy Coconut Milk Quinoa Pudding. Swap maple syrup for honey if you don't have it.
Lunch: Choose your favourite / leftovers / eating out
Dinner: Bibimbap Nourishing Bowl. Bibimbap literally means "mixed rice" in Korean, and is a signature dish packed with veggies, a protein source and topped with a sunny side up egg. Add in any other leftover vegetables or meat you have, and feel free to sub in white rice for brown.
Snacks: Sweet Potato Chips. I recommend soaking the potato for 1 hour beforehand to remove some starch, so they will bake crispy.
Bonus snack ideas and a recommendation
Additional healthy treats and snack ideas… because life happens:
I also recommend you consider a high dose omega-3 fish oil supplement (unless you eat oily fish 3-4 times per week), which is supported by strong evidence.