[Last updated 7th March, 2023]
Do you suffer from symptoms of food intolerance?
Or have you been diagnosed with IBS (Irritable Bowel Syndrome)?
If so, a low FODMAP diet is the only proven method to discover what foods trigger your symptoms.
I've rounded up 44 delicious low FODMAP recipes to help you get started. Recipes are categorised under breakfast, lunch, dinner, snacks and desserts.
Click the recipe photo or name below for the full instructions and more photos.
Would you like more information on how to start a low FODMAP diet?
Tap the blue button below to download our "Eat This, Not That" list as well as additional resources for IBS and digestive issues (it's free!)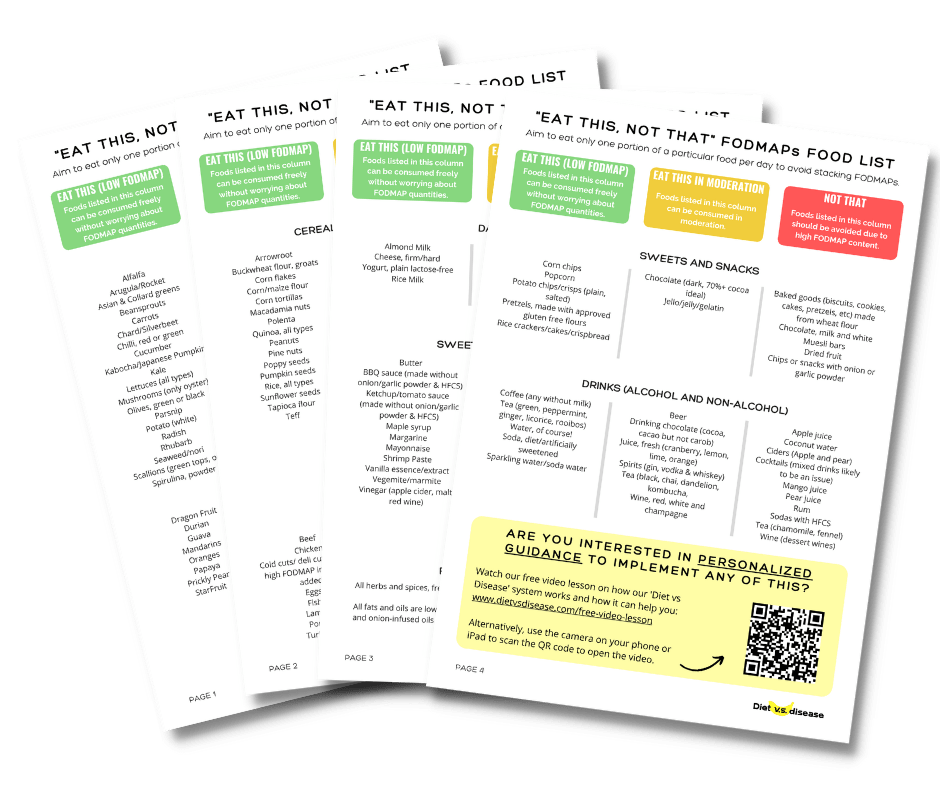 Low FODMAP Breakfast Recipes
Slightly sweet but nice and crunchy.
If you can tolerate oats then they are a nutritious addition in place of corn flakes. Oats are naturally gluten-free also.
Think green smoothies are just about nutrition?
The FODMAP Everyday Green Kiwi Smoothie is super tasty too and very easy to make.
Basically identical to scones made with wheat flour… nobody will know the difference.
Can also swap out chocolate for pecans, walnuts or other low FODMAP nuts.
Satisfies hunger and your sweet tooth.
Be sure to use maple syrup rather than honey.
Crunchy coconut oats with rose water and dark chocolate.
Go for chocolate with 85%+ cocoa.
A little bit fancy, so perhaps not an everyday breakfast.
This one uses protein powder and soy ice cream for something a bit different.
Batch prepare this to grab on the go.
Also a filling lunch option.
These FODMAP-friendly and Gluten-free pancakes are fluffy and light-as-cloud.
Serve with spelt bread or corn tortillas and low FODMAP veggies.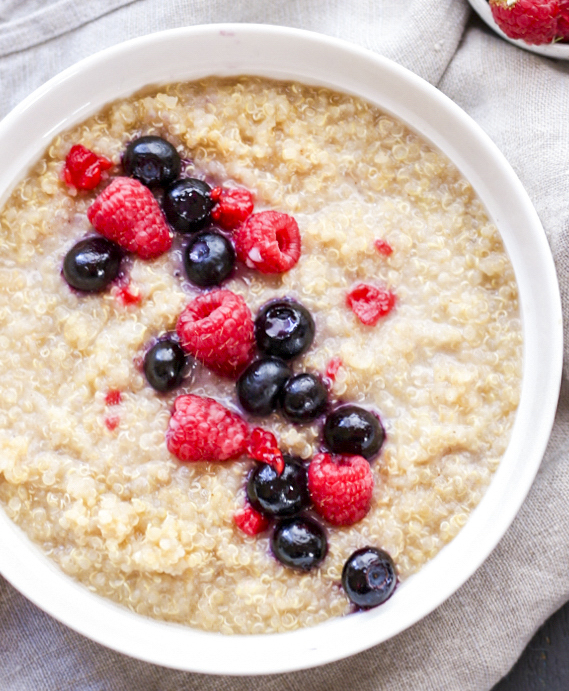 Quinoa is a high-protein alternative to oats, but costs a lot more.
One cup of cooked quinoa is low FODMAP.
Low FODMAP Lunch Recipes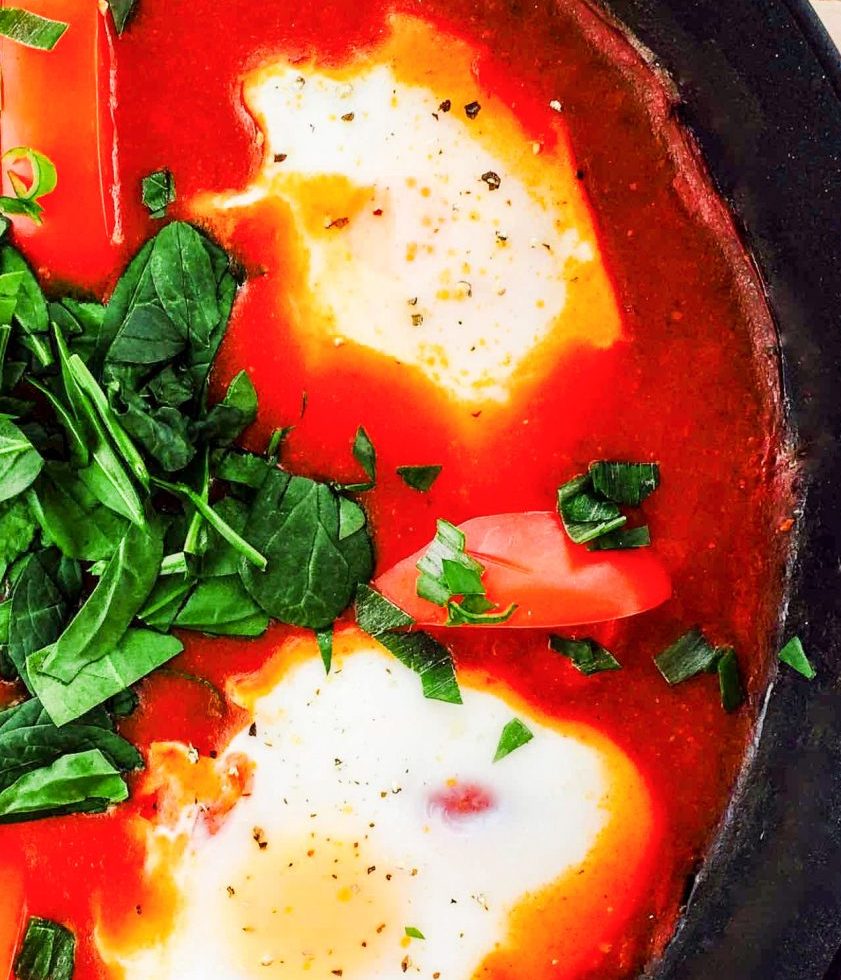 Shakshuka can either be a lazy weekend breakfast or lunch.
Remember to divide the recipe into 4 serves to keep it low FODMAP.
Select a maximum of 3 veggies, and add a protein if you like.
Omit avocado and scallions.
Delicious low FODMAP veggies and a thick sauce.
Add a protein source for a complete meal.
Leek leaves are a great replacement for onions.
They go really well with eggs.
Classic minestrone soup is great for lunch or a light dinner.
Uses canned chickpeas, but they need to be soaked again even out of the tin to keep the FODMAP content low.
Rich and creamy, soups are perfect for batching and then freezing the leftovers in portions.
Then you've always got a quick and tasty go to snack or meal.
Delicious and nutritious, it only takes 30 minutes from start to finish.
Heavy on nutrients, light in calories.
We should all aim to eat more salads at lunch.
According to Monash, 1/4 cup of corn kernels per person is low FODMAP.
This works out to be 3 fritters total, so it's not a big lunch.
Make sure the eggs look slightly under-cooked when removed from the oven because they continue to cook in the hot tomatoes.
Low FODMAP Dinner Recipes
Simple enough for a weeknight, and the marinade is delightful.
With sweet cherry tomatoes, oregano chicken and dairy-free pesto, this Low FODMAP Pesto Pasta with Grilled Chicken is a meal-in-one you won't want to miss!
Creamy rice and sweet roast veggies combined with fresh lemon flavours.
This is a baked (not fried) version of traditional Chicken Parmesan.
But with quinoa which is low FODMAP, high protein and high fiber.
Loaded potatoes are easy to make, filling, healthy, and totally low FODMAP!
This recipe omits the problematic ingredients of traditional curries while maintaining all the wonderfully aromatic and tasty flavors, keeping the authentic Thai essence.
Comfort food that's easy to throw together at the last minute.
Serve with a side of low FODMAP veggies.
Serve with low FODMAP veggies and 2/3 cup of brown rice (for the fiber).
Always a weekend favourite for the family.
Leave out taco seasoning unless you can find one without garlic and onion.
A Korean favourite.
It's a mixed rice bowl packed with veggies, a protein source and a fried egg, sunny side up.
A unique and delicious twist on classic pan-fried fish.
Real comfort food to enjoy without upsetting your tummy.
Low FODMAP Snack Ideas
We've since created a roundup of 77 low FODMAP snacks, both simple and from recipes. You can see it here.
Rich in protein, fiber and magnesium, a nutrient many of us are lacking.
Super simple to make and enjoy as a quick snack.
Unique muffins that use quinoa flour.
This recipe will quickly become your favorite treat for family movie nights, entertaining, kids parties and more!
Made with banana chips, dark chocolate chips, low FODMAP pretzel sticks and pumpkin seeds.
Delicious and very close consistency to regular banana bread.
Only 5 ingredients needed, or 6 if you want chocolate chips.
Low FODMAP Dessert Recipes
Classic comfort food, great with ice-cream.
Moist fudgey-style brownies with a shiny top.
Make a batch and keep in the fridge.
The healthiest and tastiest chocolate and hazelnut truffles you'll ever eat.
About 20 hazelnuts (30 grams) is a bit high in FODMAPs, but you are fine if you don't eat more than two at one sitting.
Divide this recipe into 3 serves to keep it low FODMAP.
Would you like more information on how to start a low FODMAP diet?
Tap the blue button below to download our "Eat This, Not That" list as well as additional resources for IBS and digestive issues (it's free!)