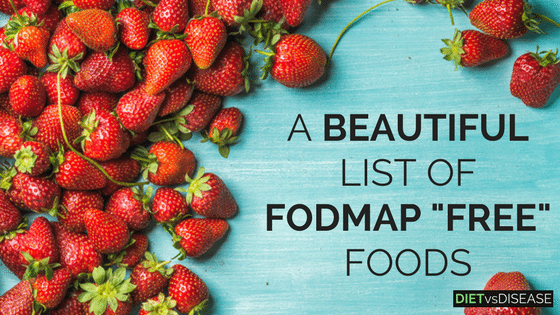 [Last Updated 8th December, 2017]
This is a complete list of foods that have virtually undetectable levels of FODMAPs.
That means you can eat them "freely".
It's created from the latest data in the Monash University Low FODMAP Diet app.
You can also print or save a "cheat sheet" version below, which is handy when shopping or cooking on a low FODMAP diet.
Important Notes
Monash have discovered that some fruits and vegetables are so low in FODMAPs they can be eaten "freely".
That is, you don't really have to worry about the amount you have.
However, it's still not recommended you gorge on FODMAP "free" foods in one sitting, because it does all add up.
To download a PDF version of the chart suitable for printing, click the button below. It will then be emailed straight to you.
Or click here to download the list.
FODMAP "Free" Foods List
FODMAP "Free" Fruits
Banana (unripe/green)
Breadfruit
Carambola/Starfruit
Clementine/Mandarin (imperial)
Durian
Grapes (black muscatel)
Grapes (ralli seedless)
Grapes (red globe)
Grapes (Thompson)
Lemon juice
Lime juice
Orange (navel)
Plantains
Prickly pear
Strawberries
FODMAP "Free" Vegetables
Alfalfa
Arugula/Rocket
Beansprouts
Bell Peppers/Capsicum (red)
Carrots
Celeriac
Chard/Silverbeet
Cucumbers
Kale
Lettuce (iceberg)
Lettuce (red coral)
Lettuce (butter)
Olives (black or green)
Potato (regular)
Radish
Rhubarb
Seaweed (nori)
Tomato (common)
Once again, if you'd like to download a larger version or printable PDF version of this FODMAPs food chart, click the button below. I can then send a copy direct to your inbox.
Or click here to download the list.
There is also an image version of the FODMAP "free" foods list here, useful for saving on your phone. However, it won't be as clear as a pdf version: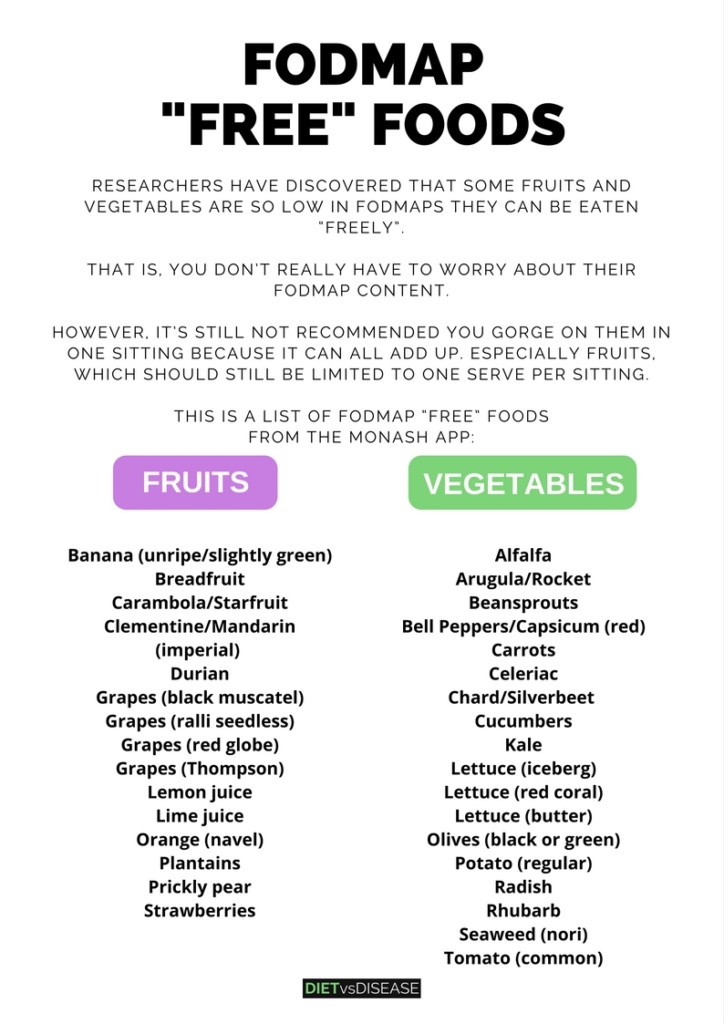 I welcome any feedback or suggestions for improvement! Please leave them in the comments.