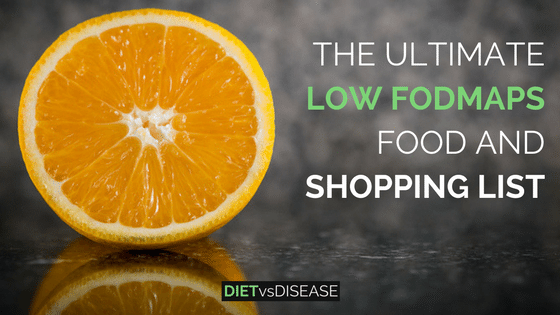 [Last Updated 14th April, 2017]
This is the most comprehensive low FODMAPs foods list available for free.
It's based on the latest data from the Monash University Low FODMAP Diet app.
Print or save to your phone to use as a quick-reference guide when shopping or cooking. I've attempted to list foods in both US and UK/Aus names, with US first.
Important Notes About this Low FODMAPs Food List
This list is designed as a tool for those who are following a low FODMAP diet to treat food intolerance or IBS.
Note the serving amounts next to each food refer to how much you can eat per meal. They are based on dry/raw weight unless otherwise specified.
If no amount is given then it's considered a "free" food. That is, FODMAP levels were undetectable in that food because they were so low.
In any case, moderate portion sizes are still recommended, especially with "free" fruits.
The version below is a PNG image file, best for saving to a phone or tablet. Right click and select "save image as" on computer, or screenshot on your phone or tablet to save.
To download a much larger version or PDF version suitable for printing, click the button below. It will then be emailed straight to you.
Or click here to download the list.
Right click and select "save image as" on computer, or screenshot to save on phone or tablet.
If the food you seek is not on the list, then it is either not low FODMAP (in other words, it's too high in FODMAPs) or it has not been tested.
Monash university are constantly testing new foods, and adding foods to the app as the data comes in. It's in your best interest to use this list alongside the Monash Universtiy Low FODMAP app.
Once again, if you'd like to download a larger version or printable PDF version of this FODMAPs food list, click the button below. I can then send a copy direct to your inbox.
I welcome any feedback or suggestions for improvement! Please leave them in the comments.