[Last Updated 12th May, 2022]
This is a giant list of what foods to eat, and what foods to avoid when following a low FODMAP diet.
It's based on the latest published FODMAPs data (1, 2, 3, 4, 5).
Print or save to your phone to use as a quick-reference guide when shopping or cooking. I've attempted to list foods in both US and UK/Aus names, with US first.
I've included a screenshot of the pages below. But the full PDF is 4 pages and suitable for printing. To download it simply tap the box below and it will then be emailed straight to you – it's free!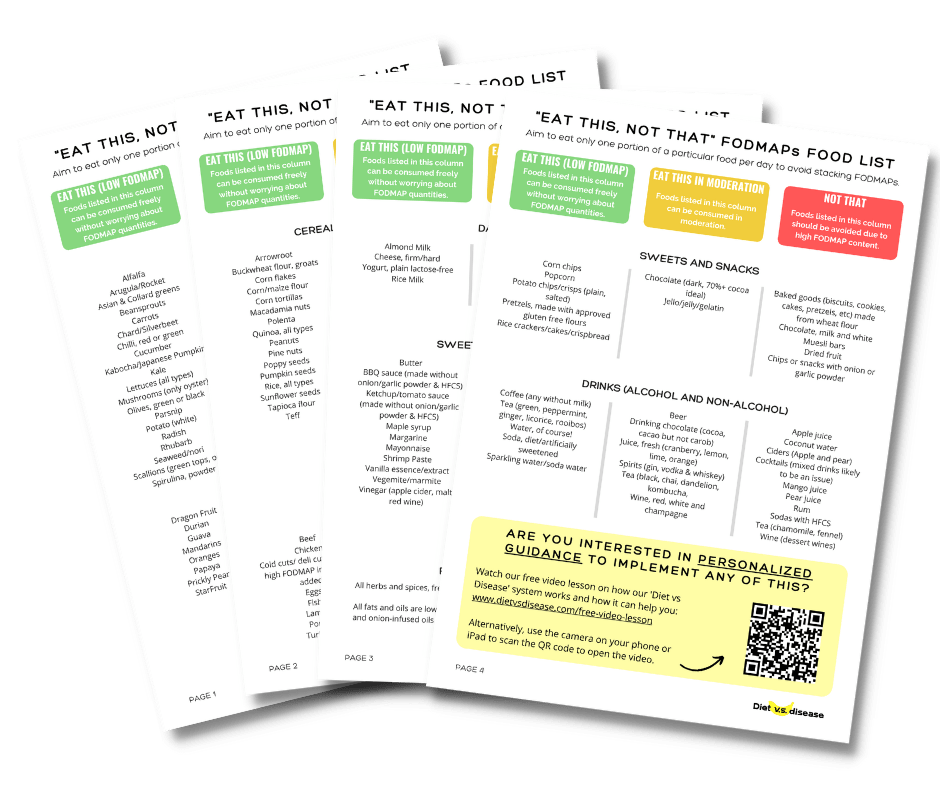 Important Notes About this Low FODMAPs Food List/ Food Chart
It's designed as a tool for those who are following a low FODMAP diet to treat food intolerance or IBS.
Note if there is a serving amounts next to a food, it refer to how much you can eat per meal (not per day).
If no amount is given then you should still eat that food in conservative amounts, otherwise high quantities can stack and lead to a high FODMAP load. The exception is eggs, meat, fish etc, which can be eaten freely.
Monash university are constantly testing new foods, and adding foods to their app as the data comes in. It's in your best interest to use this list alongside the Monash Universtiy Low FODMAP app.
Once again, to access the full printable PDF version of this FODMAPs food list, tap the box below. I can then send a copy direct to your email.
I welcome any feedback or suggestions for improvement! Please leave them in the comments.
Would You Like Personalized Help With Your Digestive Issue?
I put aside some time on my team's calendar to offer FREE Digestive & Gut Health Optimization Assessment sessions to make sure you have everything dialled in…
We're only doing these for the next few days.
Here's How The Assessment Works:
We'll help clarify the key things you can do IMMEDIATELY to get your diet on track and gut symptom relief
We'll help you identify your biggest challenges holding you back from success
We'll figure out if there may be some unique food intolerance or hormonal issues at play
And if you're interested, we can explain how our individualized program works for getting quicker results and healing the gut properly.
There's no charge for this assessment, but it's only for women who are serious about getting results and will implement what we share.
Again, spots are limited (and I expect them to fill quick) so make sure to schedule in the calendar below (if you do not see any time then it means our calendar for these free calls is full).
Tap here to book on our calendar now (it will open up a new window with our calendar)