Turkey is a popular and nutrient-rich meat.
While some consider roast turkey a difficult dish to master, we seek to debunk this myth and help you roast a perfect turkey every time.
This article looks at how to cook turkey in the oven, simply and stress-free – you can modify and add any bells and whistles as you wish.

What is Turkey?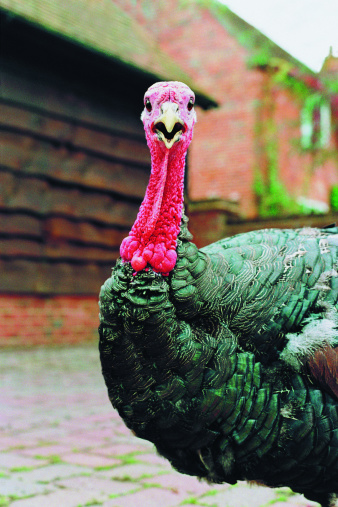 Turkey is a large game bird, native to North America.
It's the traditional centerpiece dish for number of holiday-feasts such as Thanksgiving and Christmas, and represents a good low-fat and high protein meat source.
Fun Fact: Turkey contains the amino acid tryptophan, which is often blamed for inducing sleep following a filling Thanksgiving dinner feast. In fact, all meats contain this essential amino acid and the levels in turkey are not enough to cause drowsiness.
How to Prepare Turkey
Before you look at how to cook turkey, you must prepare it properly.
Essentials for any method:
Fresh or frozen (turkey kept in your freezer for up to 12 months – but remember to properly thaw your frozen turkey before cooking!)
Once thawed:

Remove any packaging and bag of giblets (check in the body and neck cavities);
Rinse the whole turkey and pat dry with paper towel.
Tools for roasting:
Meat thermometer
Aluminium foil
Paper towel
Cutting board
Roasting pan
Roasting rack
Baster/brush or ladle
Sharpened carving knife
How to Cook Turkey
Below is an easy template to cook a delicious, perfectly-roasted turkey.
Roast Turkey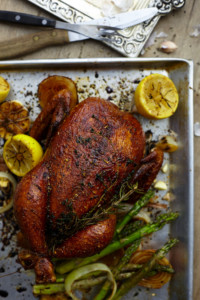 This is the most common method to cook a turkey.
It produces a succulent, tender turkey for all the family to enjoy.
How to do it
Preheat your oven to 350 degrees F (177 degrees C).
Whilst the oven is preheating, rest your thawed turkey, breast side-up on a roasting rack or cutting board.
Brush the turkey with melted butter/olive oil.
Rub some salt, pepper and herbs of choice (e.g. sage, rosemary) over the turkey.
Place a halved lemon and a few garlic cloves in the turkey cavity.
Pour 2 cups of chicken or vegetable stock into the roasting pan. Add any vegetables (e.g. chopped celery, carrots, onion) as you wish.
Place turkey (on the roasting rack) in the pan, breast side-up.
Timing: roast your turkey uncovered for about 13 mins per pound – for example, a 15 pound turkey would roast for 3 hours and 15 minutes in total.
Every 45 minutes: take the turkey out of the oven and baste with the juices from the pan.
Three-quarters of the way through cooking, remove the turkey from the oven and check the meat temperature – insert your meat thermometer in the thickest part of the thigh. It should read 165 degrees F (74 degrees C).
If the temperature is less than this, roast in the oven for another 10-20 mins (check meat temperature again at 10 mins).
Once cooked, transfer the turkey to a cutting board – let it rest for 20-30 minutes (allows for the juices to properly absorb into the meat for easier carving).
Carve the turkey – carving tips here.
Serving tips
Cranberry sauce is a classic accompaniment to turkey – this sweet, yet tart relish brings the rich turkey flavors to life. You may also wish to use the juices from your pan to make a smooth gravy to spread over your final dish – recipe here:
Suggested side-dish(es)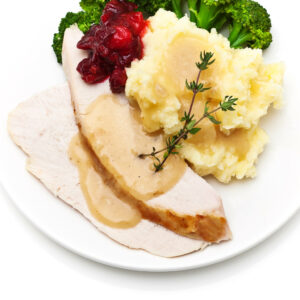 Serve your turkey sliced with some roasted or steamed vegetables and mashed potatoes – see How to Cook Asparagus for some quick and easy asparagus recipes to complement your main turkey dish.
And don't worry if you have leftovers – you can use them to make many other dishes, including turkey sandwiches, turkey pie, turkey pasta or tacos!