INSTRUCTIONS

Only watch this module if your Dietitian has advised you to!

If you are unsure which elimination diet to follow, please speak to your Dietitian about which elimination to start with.

Your Dietitian will tell you which elimination you need to follow after week 1 (subject to their advice).

Tap on the "Go To Next Module" link at the bottom of the page to move to the next module.

If you have any questions please ask in the FB group or email hello@dietvsdisease.org.
---
1. Low FODMAP Elimination: What to Expect
In this video, Emily Gabel RD walks you through what to expect from the FODMAP protocol that you will be following.
Below are downloads with resources that will help you navigate the diet.
A downloadable transcript is also available below for those who prefer to read rather than watch the video, just click here.
Downloads:

FODMAP Stacking Guide (Metric Measurements)
FODMAP Stacking Guide (Imperial Measurements)
Simple low FODMAP Meal Builder
Low FODMAP Food Recommendations (USA only)
---
2. Quick Start Guide explained
In this video Emily walks you through the Quick Start Guide (Download link above).
---
3. FODMAP Stacking
FODMAP stacking is the #1 reason people don't do well on the FODMAP diet.
It's fundamental to understand, yet most people are never taught.
In this video, Ryanne Lachman RD explains how it works and is the reason that food and symptom tracking during the beginning is so important.
A downloadable transcript is also available below for those who prefer to read rather than watch the video, just click here.
---
4. Create Your Go-To Meals Without Reinventing The Wheel
This lesson looks at how you can make swaps in your eating plan to make it low FODMAP rather than sticking with someone else's meal plan (like for example the meal plan you received from me or that you found online).
These are the steps which are explained in the video:
List out the ingredients of your usual go-to meals, the 2 or 3 meals you typically eat in a week.
Figure out how much of each ingredient would be in one serving for you (the amount that you would normally eat of that meal).
Use the low FODMAPs foods list (previous lesson) to help you swap in low FODMAP ingredients for the usual high FODMAP ingredients you use.
Now you have some low FODMAP versions of your favorite meals.
The 'Eat This Not That FODMAP food List' as well as an 'Easy FODMAP Swaps List area available for download in this lesson by clicking the links under the 'Download' header.
---
5. FODMAP Label Reading Tutorial and High FODMAP Ingredients Guide
High FODMAP ingredients are often added to food products and we inadvertently eat them.
It's important to be able to identify them in the ingredients section of the food label. This video is an example of a low FODMAP snack vs high FODMAP.
Here is another look at the nutrition labels mentioned in the video above:
Low FODMAP
High FODMAP
FODMAP Label Reading Guide
Available under the Downloads heading below is a label reading guide that you can use to identify high FODMAP and low FODMAP ingredients.
The green boxes are low FODMAP ingredients and safe to eat.
The red and orange are high FODMAP and should be avoided during the elimination phase.
Emulsifiers and Gums
There is some confusion surrounding carrageenan, xanthan gum an guar gum, which are common food additives.
These are all low FODMAP and permitted on a low FODMAP diet in moderate quantities.
However, some do not absorb the gums well and they can cause digestive stress in select people (but it's unrelated to FODMAPs specifically).
So they are permitted, but keep that in mind if you are having symptoms despite a strict low FODMAP diet.
Additional Tips
Knowing what to look for on food labels is incredibly important- even more so on the low FODMAP diet.
The video here is a great 1-minute primer from Buzzfeed on how to read labels in general. I strongly recommend you watch this quickly, even if you think you already know how.
One of the main points to remember is that ingredients on food labels are listed in order of weight. So the first ingredient listed is in the highest quantity and the last ingredient listed is in the lowest quantity. For example, the first ingredient listed on a box of rolled oats will be rolled oats. The first ingredients listed on a candy bar will be sugar.
Downloads:
---
6. Dining Out On The FODMAP Elimination
Being on a low FODMAP diet doesn't mean you need to stop going out to restaurants.
You just need to be very careful about what you order.
This video has some general recommendations and then cuisine-specific tips are listed below. Also in the video at 4:10 are tips for eating at a friend's or relative's place.

A downloadable transcript is also available below for those who prefer to read rather than watch the video, just click here.
I have included a low FODMAP fast food and restaurant guide to help guide your choices when those occasions come around. Note that if a common fast-food chain is not listed there, it's likely it did not have any low FODMAP options (garlic and onion sneak into everywhere!). For example KFC and Taco Bell.
Before you go to the restaurant:
Check the menu online ahead of time.
Call the manager ahead of time to see if they can accommodate your dietary needs.
Keep things like rice cakes, cheese and peanut butter handy and eat before you go to a restaurant.
Bring your own salad dressing.
Bring your own pasta sauce or stir fry sauce. They should be able to stir fry something acceptable for you.
When you are at the restaurant:
Ask for a Gluten Free menu, then work from there to tell them what you want.
Don't be afraid to speak directly to the chefs
It's okay to send something back if it didn't come out as expected.
Always ask if foods are fried or breaded and what is in the sauce.
Don't allow yourself to be bullied into believing you are not entitled to expect them to be helpful and accommodating and to do it without making you feel uncomfortable.
What to eat:
Most restaurants, whether it is on the menu or not, will cook you a plain omelet with herbs.
Choose grilled meat or salmon with no seasoning or marinade.
Avoid sauces and salsa.
A lettuce wrapped grilled burger and regular fries are safe.
Avoid pickles due to the high fructose corn syrup in the brine.
Order plain boiled rice.
Some pizza places offer gluten free bases. Make sure they don't add any garlic or onion to the base and avoid toppings like mushrooms or salami.
Have gluten free pasta with olive oil, spinach and unseasoned grilled chicken.
Have salad (without croutons) with a safe serving of balsamic dressing.
Tips for eating out at Indian restaurants:
Check the menu for Jain dishes (vegetarian cuisine, without garlic, onion, potato and eggplant)
Watch out for sweet dishes as they may also contain creams and Sultana raisins.
A general veggie dish may contain cauliflower and they may use tomato puree instead of tomatoes.
Ask if they can grill you some chicken skewers chicken tikka style but using herbs and spices you can tolerate.
Ask if they could use a different grill from where they fry the onions.
Ask for meat that has not been pre marinated.
Ask for no dressing on salads and not to garnish or serve with onions.
Tips for eating out at Mexican restaurants:
Order fajitas with no seasoning on the meat. Pair it with lettuce, tomatoes and plain rice.
Make sure no onions and no green pepper are cooked with meat or marinated in onion or garlic.
Grilled plain steak.
Grilled chicken tacos, without any onion. No spices.
Make sure burgers are seasoning and spice free.
Sharp cheddar is usually extremely low lactose or lactose free.
You can have corn tortillas with cheese and chicken.
Ask if they can chop fresh tomato and cilantro instead of eating their salsa which usually has garlic and onions.
Plain chicken and cheese quesadilla.
Make sure they don't put sour cream on anything.
Tips for eating out at Seafood restaurants:
Fish tends to be the most simply cooked.
Order a side salad with oil and vinegar on side.
Tips for eating out at Oriental/Asian restaurants:
Many Oriental places will cook your food fresh to your specifications (e.g. without sauce).
Vietnamese food can be a good choice. Check to see if you can get non seasoned meat.
Rice or a rice noodle bowl and fish sauce and sambal oelek are low fodmap.
Be careful with sushi rice. It is usually sweetened.
Order raw salmon or tuna.
Steamed chicken or shrimp with a safe veggie. No sauce.
Be careful with beef and broccoli, some places put a sweet sauce on it.
Order Japanese Ponzu sauce.
For Thai food (eg. pad thai) make sure they don't add any onion.
Downloads:
Low FODMAP Fast Food and Restaurant Guide
---
7. Monash FODMAP Diet App
We highly recommend that you download the Monash FODMAP Diet app if you are following the FODMAP elimination.
The app is extensive, updated regularly and is the main source of FODMAP information we recommend you use. We build our resources from the app (among others).
The app is $12.99AUD / $9USD as a one-off fee (not a subscription). DietvsDisease is not affiliated with Monash and we receive no commission for promoting their app.
Click here to download the app for Android devices
Click here to download the app for iPhone/iPad
The video below shows you how to use the app.
---
8. Why Do You Want A Meal Plan?
This lesson explores meal plans and how they apply to you and your goals.
This is what we cover:
Why do you want a meal plan?
Meal plan reality check
Why we provide a meal plan
Transform your current diet
Sustainability at the forefront
– Note with this lesson there are 4 different low FODMAP meal plans to download for those with digestive issues. You can find these under the 'Meal Plan Downloads' heading below, and the choice is between imperial and metric measurements.
– We can make you a custom meal plan if you request it with one of the Dietitians in messenger or contact us at support@dietvsdisease.com.
– Ideally though you do not want to rely on meal plans, but rather we want to help you create your own plan over time (hence the video above).
– In Module 3 there are several resources designed to help you navigate FODMAPs more effectively.
Meal Plan Downloads:
Additional Recipe Books:
---
9. Interested in Low FODMAP Meals Delivered To You?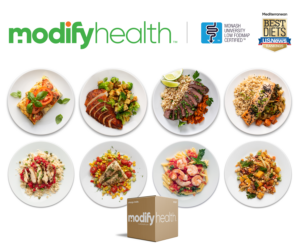 A helpful meal planning tool that may alleviate the stress of prep, planning and grocery shopping are meal delivery services.
The number 1 low FODMAP doctor and dietitian referred meal delivery service in the US is Modify Health (currently only available in the US)!
Their meals are also available in Cronometer so you can easily enter them when working with our Diet vs Disease program!
We've partnered with Modify Health to make this opportunity available to you, so if you use the code DVSD60 at checkout, you will get $60 off your first 3 weeks ($20 per week) and free nationwide shipping.
To claim this deal visit ModifyHealth here.
---
10. Bread on the Low FODMAP Elimination
One of the most common questions we get about the low FODMAP diet is 'can I eat bread and if so what type?'
So here is the answer: yes!
Ultimate Low FODMAP Bread Options Across the World
1. Not all gluten free breads are low FODMAP. Watch out for breads that contain ingredients such as honey, agave, flaxseeds, chia seeds, oat fiber, oat flour, cassava flour, coconut flours. All these items have potential to become high FODMAP and therefore can easily stack with other foods. When we don't know the amounts of these foods that were used in a bread recipe, it's best to avoid them during the FODMAP elimination phase.
2. Sourdough bread can be a great option while following the low FODMAP diet, as long as you don't have diagnosed celiac disease or diagnosed non-celiac gluten hypersensitivity. The fermentation process that traditional sourdough bread goes through aids in reduction of both the FODMAP, called fructan that is typically found in wheat flours, as well as a reduction in gluten.
3. In the UK, if you have diagnosed Coeliac Disease, you can ask for gluten free bread/rolls and flour on prescription from your General Practitioner.

Bread Recommendations
USA:
Canada:
UK:
Australia:
If you need any additional help with bread or other ingredients, please post in the Facebook group any time!
---
11. Protein powders on the low FODMAP Elimination
Protein powders are an incredibly convenient way to boost your protein intake or to fortify low protein meals. We will often recommend protein powders to use alongside your whole food diet and are great to fortify oat meal/porridge, smoothies, pancakes and many other dishes. You do not have to include protein powder in your diet if you achieve sufficient intake from whole foods.
This post lists recommendations for low FODMAP protein powders in the USA, Canada, UK/EU and Australia. We are not affiliated with any of the products or resellers posted here and other products are available. We recommend these products because they are low FODMAP based on their ingredients. If you choose products outside of these recommendations, you do so at your own risk (risk of high FODMAP ingredients/digestive symptoms) so please check any product you plan to use with your Dietitian!
You do not need the most expensive 'organic', 'GMO-free', 'un-denatured', 'certified low FODMAP' protein out there, it's just marketing hype.
Do not buy protein powders with added greens powders (like spinach powder, broccoli powder etc); again they are overhyped and expensive, can cause digestive issues in IBS and do not provide the benefits they claim.
A note on flavours: natural (unflavoured) and vanilla are preferred as they are definitely low FODMAP. Chocolate flavour will likely contain cocoa (GOS) and other flavours may also contain FODMAPs (in the form of fruit powders) so these are best avoided.
Avoid powders that contain 'greens' or additional ingredients (vitamins, minerals, creatine, BCAAs etc). These added extras are not needed and make the product more expensive. Not to mention that many greens powders are high FODMAP.
I will likely update the products in future and should anyone notice dead links, please let me know.
WPI = Whey protein isolate (highest quality, very low lactose, do not cook with whey!) Whey protein concentrate (WPC) is suitable for those who know they are *not* lactose intolerant (it is also cheaper than WPI).
SPI = Soy protein isolate (best choice for non-animal product consumers/lactose intolerant, best choice for cooking/baking with, avoid if you have a soy allergy).
PPI = Pea protein isolate (good choice for those who don't want WPI or SPI, generally a coarse texture and strong flavour, good for cooking/baking with).
Other suitable types include rice, hemp, egg protein powders.
Avoid soy and pea protein products that are not 'isolates' (e.g. where product states 'pea protein' only and not 'pea protein isolate') as these can still contain FODMAPs.
Collagen protein is also low FODMAP however not a great quality of protein and the evidence for many claims made are weak at best. Collagen does excel at being completely water soluble and therefore a convenient way to fortify liquids (e.g. tea, coffee, soups).
Anyway, here are the listings:
USA
WPI: https://bulksupplements.com
SPI: https://bulksupplements.com
PPI: https://www.bulksupplements.com
CANADA
WPI: https://canadianprotein.com/
SPI: https://www.amazon.ca/Soy
PPI: https://www.amazon.ca/NOW
UK/EU
WPI: https://www.bulk.com/uk/pure-whey-isolate-90.html
SPI: https://www.bulk.com/uk/soya-protein-isolate-90.html
PPI: https://www.bulk.com/uk/super-pea-protein-isolate.html
AUSTRALIA
WPI: https://www.bulknutrients.com.au/products/hasta-whey-protein-isolate
SPI: https://www.bulknutrients.com.au/products/soy-protein-isolate
PPI: https://www.bulknutrients.com.au/products/pea-protein-isolate
BONUS CONTENT!
Spoonful article on low FODMAP protein bars: https://blog.spoonfulapp.com/low-fodmap-protein-bars/
---
12. DietvsDisease Amazon Store!
So we decided to create an Amazon store so that we can help clients quickly locate products we regularly recommend. The store is only for US clients at the moment but we hope to add on stores in other countries.
Your Dietitian may send you links for products and it is always best to seek advice from your Dietitian before buying anything.
Visit the store here: https://www.amazon.com/shop/dietvsdisease
---
13. Additional Tips for Getting Started
If you made it down here, well done, you are doing great!
Here are some additional tips that will help you get and stay on track early in the process:
1) Buy a digital scale!
Having a digital kitchen scale is essential for success with the low fodmap protocol. The difference between low, medium and high fodmap in some foods can be a matter of grams (hello garlic!) If you think you can judge portions well using spoon and cup measures compared to a scale, then you're wrong. We can take this outside or you can just take my advice. A scale will also help you learn portion sizes in general as we tend to be terrible at doing this.
Click here if you need a scale and are in the USA (our Amazon store)
2) Buy a step stool/squatty potty!
This little beauty will change your life. Seriously. Use it when you poop. Humans are designed to squat when they poop which straightens the colon, making it easier to pass a poop. A stool for a stool!
3) Make sure you own some comfortable shoes…
Walking is excellent exercise and most people don't do enough of it. Aim for 10,000 steps a day, build up slowly. It's low impact, doesn't cost anything, you can say hello to people you pass (yes, you can!) and stare at nice houses or the scenery, or listen to replays of our Q&As and mindset calls… or music. And it's great for bowel motility… Unless you need to poop on your walk… 😅
4) If you are prone to constipation…
Buy magnesium citrate power and/or MiraLAX. One or both will likely help, but do speak to your Dietitian about how, when and how much to use.
Click here for products we recommend (Amazon store link)
5) If you are prone to diarrhoea…
Buy a soluble fiber supplement like psyllium husk powder (commercially as Metamucil), acacia fiber (commercially as Heathers Tummy Fiber) or PHGG (commercially as Sunfiber). This will help to slow things down. Again, speak to your Dietitian about how, when and how much to use.
Click here for fiber products we recommend (Amazon store link)
6) Bring an open mind…
This is as important as the others. We know you will have searched every corner of the internet for solutions to your problems and been advertised to by every quack out there. We all have ideas about what a healthy diet is, what healthy foods are, what health conditions are, how they can be treated and all sorts of nonsense perpetuated by doctor Google, social media gurus and people at work who think they know best.
They don't.
We do!
Trust us to help you get to where you want to be with your IBS, weight and anything else that is within our scope of practice. Being open to learn, or relearn something you previously had ideas or a fixed mindset about, is invaluable on the journey to better health.
---