INSTRUCTIONS

Tap on the "Go To Next Module" link at the bottom of the page to move to the next module.

If you have any questions please ask in the FB group or email hello@dietvsdisease.org.
1. Discipline Equals Freedom
This lesson explores the concept that if you want freedom, you must first have discipline.
This is what we cover:
Find the discipline, be the discipline
Discipline equals freedom
Food discipline equals food freedom
What we recommend first
Decisions based on data
---
2. Tracking With Cronometer (Set Up Tutorial)
Watch this lesson that walks you through how to set up your Cronometer account.
After you have watched the lesson, please enter your email below.
---
3. Embracing Responsibility and Taking Action
In this lesson, we look at some fundamental mindset shifts that need to occur for you to successfully reach your health goals.
Here's what we cover:
Fault vs Responsibility
Your "Loser Pants"
The Art of Taking Action
---
4. Why Do You Want A Meal Plan?
This lesson explores meal plans and how they apply to you and your goals.
This is what we cover:
Why do you want a meal plan?
Meal plan reality check
Why we provide a meal plan
Transform your current diet
Sustainability at the forefront
– Note with this lesson there are 4 different low FODMAP meal plans to download for those with digestive issues. You can find these under the 'Meal Plan Downloads' heading below, and the choice is between imperial and metric measurements.
– We can make you a custom meal plan if you request it with one of the Dietitians in messenger or contact us at support@dietvsdisease.com.
– Ideally though you do not want to rely on meal plans, but rather we want to help you create your own plan over time (hence the video above).
– In Module 3 there are several resources designed to help you navigate FODMAPs more effectively.
Meal Plan Downloads:
Interested in Low FODMAP Meals Delivered To You?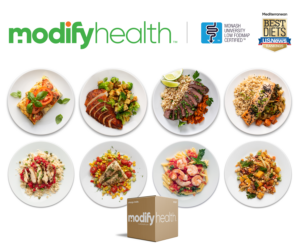 A helpful meal planning tool that may alleviate the stress of prep, planning and grocery shopping are meal delivery services.
The number 1 low FODMAP doctor and dietitian referred meal delivery service in the US is ModifyHealth (currently only available in the US)!
Their meals are also available in Cronometer so you can easily enter them when working with our Diet vs Disease program!
We've partnered with ModifyHealth to make this opportunity available to you, so if you use the code DVSD60 at checkout, you will get $60 off your first 3 weeks ($20 per week) and free nationwide shipping.
To claim this deal visit ModifyHealth here.
---
5. Become "Disgustingly" Committed
The main thing that separates those who achieve their goals from those who don't is becoming disgustingly committed.
In this lesson we look at:
How to create your dream and become disgustingly committed to it

Stages of commitment

Achieving your dream
There is also a worksheet for you to download in this lesson.
Downloads:
---
6. Environmental Controls: Boundaries For Success
Is your immediate environment conducive to your health goals? What about your virtual/online environment where you spend a lot of your time?
In this lesson we look at how you can implement environmental controls, which creates boundaries that will increase your likelihood of success.
Here's what we cover:
Define Environmental Control (EC) and understand how it applies to health and weight goals 

Review simple and specific techniques for practicing EC 

Make a commitment to EC you can start today
Downloads:
Environmental Control Checklist – Diet vs Disease Community
---
7. Emotional Eating Workshop with Aimee and Erin
This is a special workshop co-hosted by our mindset coach Aimee and one of our senior Dietitians Erin.
They explored emotional eating and how to make sure it does not control you.
---
8. Stress Management: How Is Your Current Relationship With Stress?
In this video our resident mindset/psychology coach Aimee explores our current relationship with stress.
She talks about deciding how you want to respond to stress and also gives an overview of her favorite tools and skills for coping with stress.